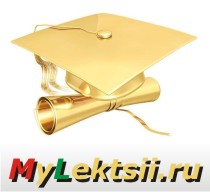 Главная страница
Случайная страница
КАТЕГОРИИ:
АвтомобилиАстрономияБиологияГеографияДом и садДругие языкиДругоеИнформатикаИсторияКультураЛитератураЛогикаМатематикаМедицинаМеталлургияМеханикаОбразованиеОхрана трудаПедагогикаПолитикаПравоПсихологияРелигияРиторикаСоциологияСпортСтроительствоТехнологияТуризмФизикаФилософияФинансыХимияЧерчениеЭкологияЭкономикаЭлектроника
National clothes of Kazakh women
Headwear of Kazakh women, similar to many other nationalities, was also a kind of indicator of their marital status. Headwear of married women differed in different tribal groups, but girls' headwear was comparatively similar throughout the territory of Kazakhstan. Girls used to wear hats of two types: skull cap (Takiya) and a warm hat (Borik), decorated with otter, fox or beaver fur. A tuft of owl feather was often sewed to the top of takiya for decoration purposes, which also played a role of a talisman. Gimp, tassels, gold embroidery and even silver coins were also used for decoration.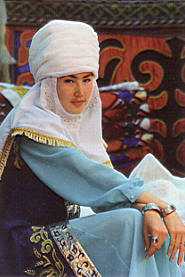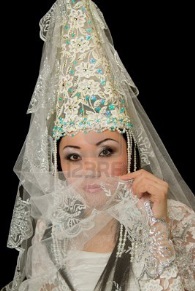 Kazakh women's national bridal headwear Saukele, which is a high (70 cm) conical hat, is of particular importance. The most expensive of them were evaluated in a hundred selected horses. Saukele was a mandatory part of girl's dowry, and was prepared long before the girls reached the age of marriage, together with a wedding gown, which was often made of expensive fabric, usually red coloured. Bride was supposed to wear a saukele during the wedding ceremony, then it was worn on holidays for some time after the marriage.
National clothes of Kazakh men
Kazakh men used to wear different skullcaps (takiya), summer and winter hats. Summer hat - kalpakwas sewed from thin felt, mostly white, and had a specific ancient cut. Borikand tymakwere worn in winter. Tymak is a warm winter hat with earflaps and neck flaps made from fox, which is popular among Kazakh men even nowadays. Bashlykis another national headwear, made of camel cloth, which was supposed to be worn on top of other hats, to protect from dust, sun, rain and snow.
Men's clothing consisted of the following components: Double under vest (zheyde), lower pants - made of light fabric and the upper - of cloth, suede, sheepskin or thick cotton fabric. From the early ages, when the Kazakhs used to go horseback riding, trousers were a necessary and important part of their clothing.
The main type of outer clothing for men was shapan, a kind of robe. People's clothing is constantly being targeted by fashion designer. Contemporary clothing, created using national motives, is always original and unique.